Fling For Freedom
A downloadable game for Windows
Fling For Freedom chronicles your journey as a droid as it navigates a treacherous spaceship where the gravity systems have been disabled. As a droid you were a lowly cleaning bot, but thanks to your grabbing claw you are capable of navigating through the Zero G environment, through applying great force to walls, or throwing the junk you find lying around to give yourself momentum.
Thanks to space-faring society's need for excellent cleaning robots, the path finding AI on your droid has been iterated upon so much that it can predict the future with 89.75871% accuracy! Simulate endless paths, experience endless simulated destruction, and rewind the simulation until a perfect path forward is found. Other droids wish they had this much processing power!
Features
Zero Gravity Navigation - Bounce off walls, throw everything you can get your claw on, all from a top-down view.
Time Manipulation (Through Simulation) - Since every level is a simulation calculated by the droid, you can essentially move forward, backward, and stop time in order to navigate the environment without a scratch.
Limited Simulation Time - While a powerful tool, the droid can only accurately predict so far into the future before running out of processing power. As a result, a room must be navigated in the simulation before that happens.
Puzzle Game-play - Space society has a weird sense of aesthetics, so it can be a challenge to navigate some rooms, especially without gravity. However, the rooms are open enough that there is often more than one to get from point A to point B.
Hazards - As a cleaning droid, you are incredibly fragile. As such, it is imperative to avoid the various traps and wayward security drones.
Directional Vector - The droid can also calculate how momentum is affecting it and visualize that as a green arrow. Which is handy, since combinations of different forces can result in interesting direction vectors.
Original Music - Enjoy the soundtrack of a whole TWO songs, custom made for this game.
Original Art - Also enjoy the custom made pixel art style all made in house.
Controls
The game supports keyboard and mouse input in addition to a gamepad.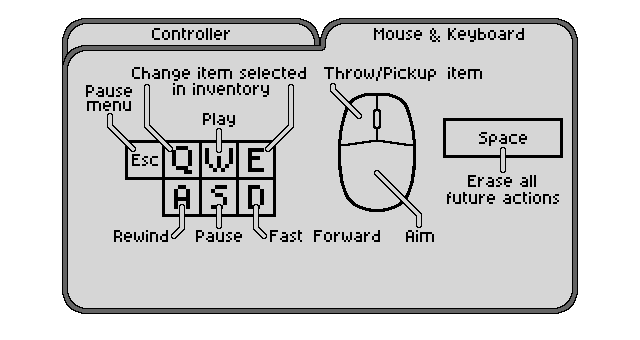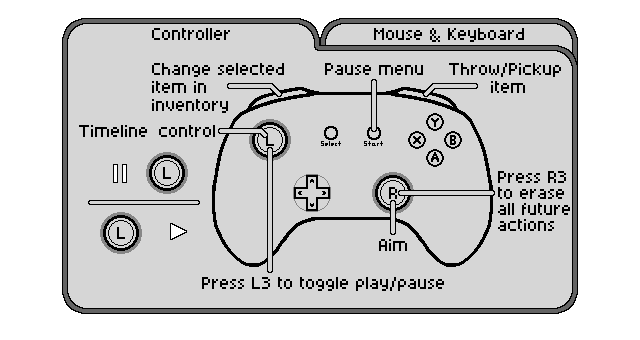 These are the controls screens that are present in the game. Many have considered the controls to be a bit challenging to get a hang of at first, so it may be fortuitous to familiarize yourself with it ahead of time, or to spend time in our first level getting used to the feel of the game. Also, while in the main menu you can press 'select' on the controller or 'u' on the keyboard to unlock all levels immediately.
Credits
This game was made as a semester long student project at Texas A&M University under the supervision of Dr. Sueda.
Programmers:
Kishan Patel
Durian Nguyen
Adam Marek
David Lin
Artist:
Music and Sound Designer:
Guest Composer:
Sound Effect Sources:
Many sounds were modified to fit better into the game, so the sounds heard in game are not necessarily the ones that were originally utilized.
Under these licenses:
Install instructions
The download is a zip file. Extract the zip file to the desired location and you can start playing the game with the FlingForFreedom.exe.